kidpik teamed up with Fashion 360 Magazine for a high fashion editorial shoot for kids focusing on fall trends. kidpik is a custom fashion box created for girls. Launched by Ezra Dabah and his team in 2016, kidpik creates a unique box of clothes for girls ages 3-12. Each box contains 8 high-quality items including 5 pieces of apparel, shoes, an accessory, and a gift box. One box is designed to create a total of 2-3 complete outfits from head to toe.
The clothes are soft and comfy, made of a rayon/spandex blend. kidpik makes shopping easy by giving parents the opportunity to shop online. It provides free shipping & returns, easy exchanges, and freestyling. You will only be charged for items you choose to keep, and there is no membership fee. Deliveries occur once a month, once a quarter or eight times a year depending on your preference. Each box is about $89, with the average cost per item being $12 after applying your 30% discount if you keep the entire box. For the first time ever this holiday season, kidpik is offering one of a kind gift boxes. You can either visit kidpik.com, or kidpik app to get your own box in time for the holiday season.
Another perk of kidpik is kidpik Basic, which allows parents to have easy access to must-have essentials including tops, bottoms, dresses, skirts, pants, activewear and shoes. kidpik Basic focuses on comfort and style, and each piece can be worn for sports activities as well as for just lounging at home. "Basics are an essential part of a girl's wardrobe," says Ezra Dabah, CEO of kidpik. "We are thrilled to offer a great selection of basics to complement the kidpik fashion collection."
Make sure to visit www.kidpik.com for more information and to start building your own box!
______________________________________________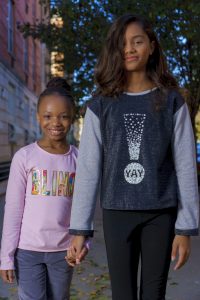 Fashion 360 Magazine caught up with Nala, a 12 year old model featured in the kidpik editorial shoot.
Fashion 360 Magazine: What was your favorite piece from kidpik and why?
Nala: My favorite piece was the dress because it is so classy and comfortable and really easy to put on.
Fashion 360 Magazine: If you had to pick one outfit for the holiday what would it be?
Nala: The dress definitely because of what I said before and it comes with the cute backpack and it reminds me of the holidays and I also normally go to Florida for the holidays so I can wear it because it is warm.
Fashion 360 Magazine: What do you look for in clothing?
Nala: I look for the style because I don't normally wear stripes I would wear more of a floral pattern and it has to cozy and comfortable and it has to fit perfectly. If it doesn't fit, I won't be comfortable and I won't wear. That is why I like kidpik because everything fits and it is cozy and comfortable.