Since its launch just eight months ago, Blu & Blue has grown into an international brand with retails stores all over the world.  Blu & Blue style is best described as classic American with European details.  The brand's meticulous craftsmanship and in-depth understanding of denim as a primary fabric have brought originality and uniqueness to the preexisting children's wear market.  We had the opportunity interview Aaina Jain, the founder of Blu & Blue, prior to its NYFW debut this season happening on September 10th, 2016.
Fashion 360 Magazine: How did you get your start as a designer?
Blu & Blue: As the founder of Blu & Blue, I always wanted to utilize the expertise and experience in creating premium quality clothing from my family's clothing business of more than 35 years. Since I was a kid, I grew up around fabrics, designs, and was fascinated with fashion combined with comfort. I always had an eye for style and was always inspired by creativity. After years of working in Fortune 500 companies, managing marketing for brands such as La Mer, Jo Malone London, and Gap in North America, I decided to start my own brand.
At Blu & Blue, we have a very talented and knowledgeable team of people who design & create our products. Starting from concept, to design, sourcing from best mills around the world such as Japan, Turkey, Korea, China, then execution, followed by mandatory safety tests on each product to ensure safe clothing for babies and kids, until packaging and final inspections, where the products are finally sent to our customers.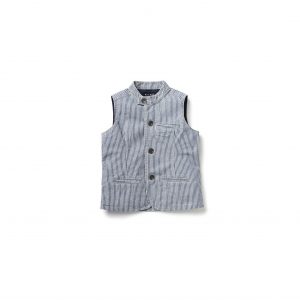 F360:  What inspired you to become a children's wear designer?  What do you love the most about designing for children?
B B: I have always loved Children's wear. There is something very special about dressing up your kids. It's an expression of yourself that passes from the parent to the child. I wanted to bring something to the experience every parent has when they dress their kids for school, play-date, or a nice luncheon!
What I love most about designing our clothing line is that it's very contemporary and chic. I love to create clothes that stand out, yet they are easy to wear and care for. I wanted to focus on styles that are cute but not cutesy. They are also inspired by New York style of chic and smart. We use a lot of details like pleats, bows, peter pan collars, and pin tucks that bring a European flair to the styles as well.